Gather your favourite people and dive into a world of fun, colour, and creativity.
Paint Parties for Adults in the Scottish Borders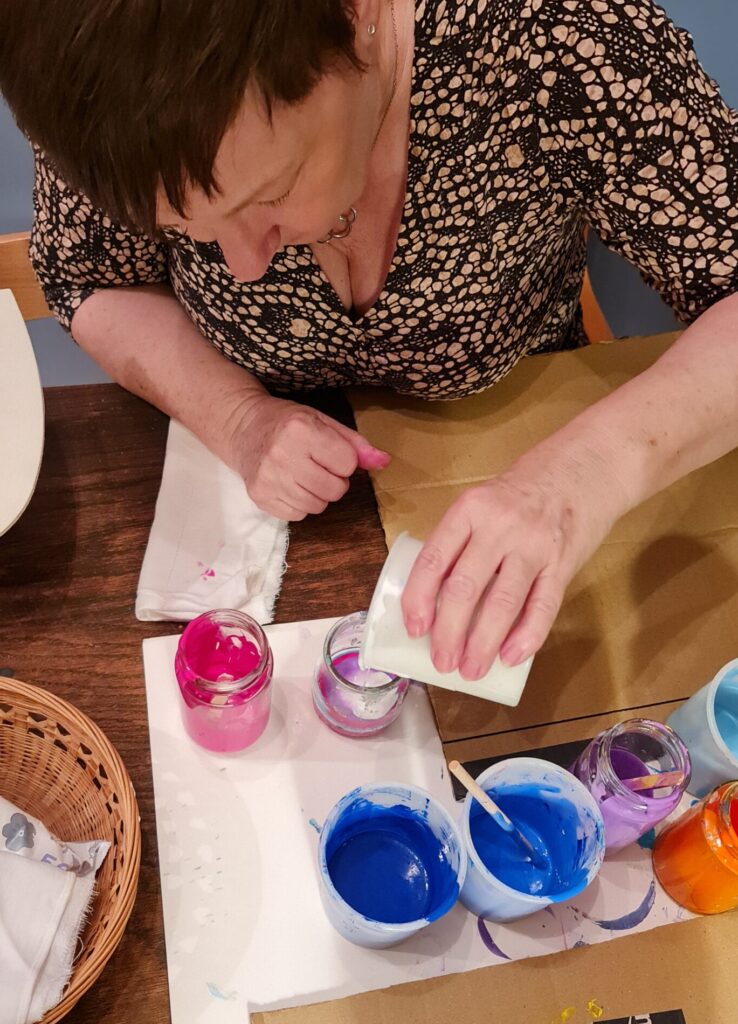 Dive into a world where artistry meets accessibility. My Paint Party is more than just an event — it's a celebration of creativity that everyone can participate in, even without a single stroke of a brush or a previous art class.
Acrylic pour art is a unique, free-flowing experience that defies the boundaries of traditional painting. It's about letting colours blend and patterns emerge naturally, guided by your intuition and the dynamic movement of liquid art. The result? Stunning, abstract masterpieces that are as unique as you are.
I believe that everyone has an artistic side waiting to be explored. With the simple, yet exciting process of acrylic pouring, you'll:
Embrace Spontaneity: Let go of perfection and enjoy the surprise with each pour.
Discover New Techniques: Learn a fun, innovative art form.
Create Lasting Memories: Not just art, but an unforgettable experience to share.
Express Without Limits: No lines to stay within or shapes to replicate; it's art that truly represents you.
Whether you're looking to unwind, celebrate, or just try something new, my Paint Parties offer the perfect blend of laughter, leisure, and learning.
Ready to pour your heart out on canvas?
Create a stunning heart and canvas to cherish forever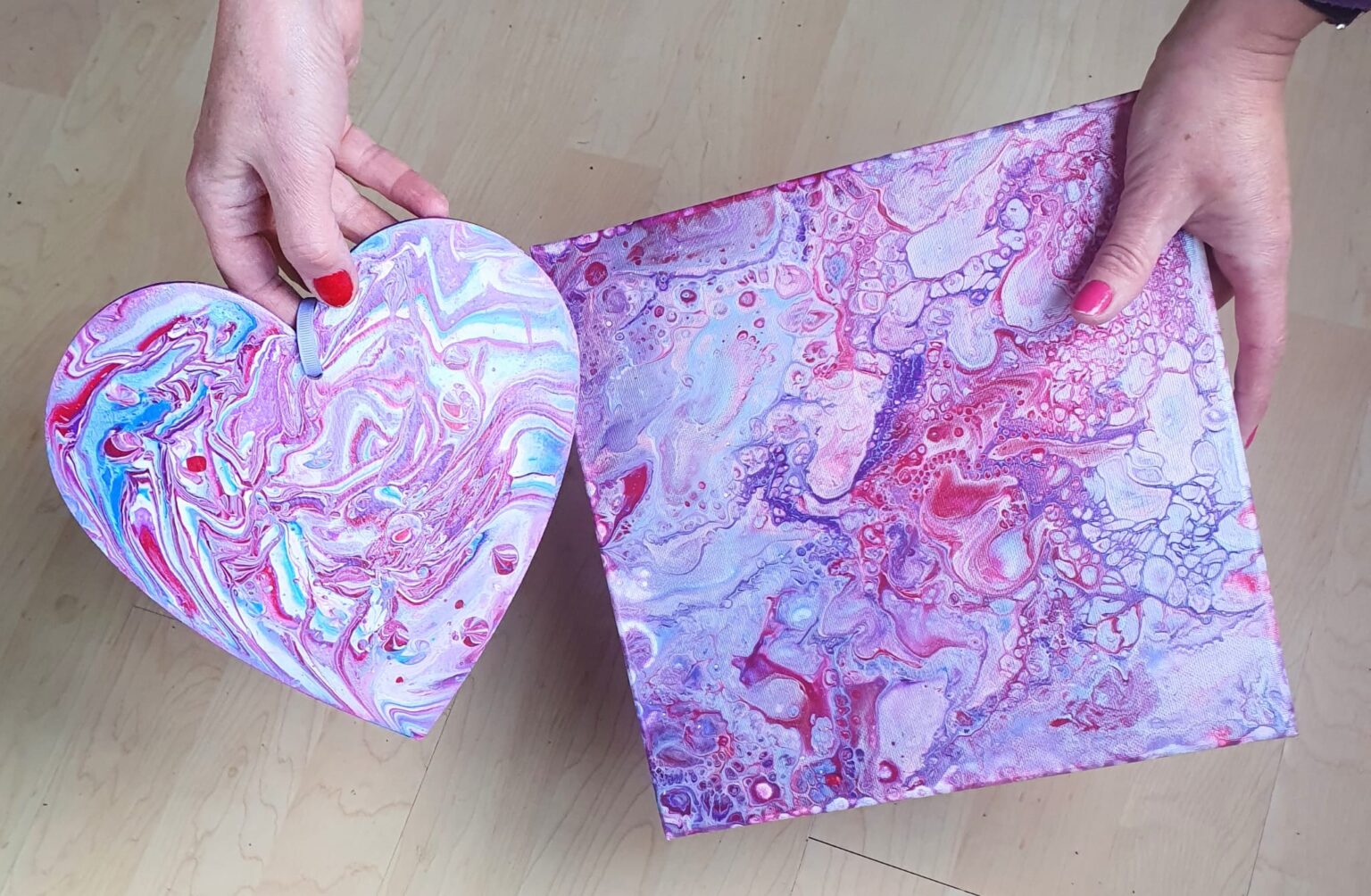 Start by rounding up 4 or 5 of your friends, family, or colleagues — anyone who's up for a splash of fun!
Decide on a day or evening that works for everyone. Whether you're early birds or night owls, I'm ready to accommodate your party.
Step 4: Arrive & Settle In
Come to my studio in Morebattle and kick things off with a complimentary glass of Prosecco and some tasty nibbles. Non-alcoholic options are always available to ensure everyone's included.
I'll demonstrate the mesmerising process of acrylic pour art on a wooden heart. Then it's over to you. Choose your colours, pour them on, and watch as a masterpiece unfolds — no brushes, just pure joy.
Leave your art piece with me to dry. I'll take care of the finishing touches, including applying two coats of paint to the back of your heart, varnishing and adding a ribbon for that final flare.
In just one week, your art will be ready to pick up. Or, if you prefer, I can deliver your finished piece to your doorstep for a nominal fee.
Ready to pour some fun into your life? Let's get this party started!
Jump right in, regardless of your artistic background. Acrylic pouring is all about exploration and expression, not perfection.
Immerse yourself in the mindful, calming, and therapeutic mixing of the paint - a perfect escape from the everyday hustle.
Connect with friend, family, or co-workers in an upbeat atmosphere. Share laughter and inspiration as you create.
From art novices to aficionados, everyone finds their place here.
Create unique pieces of art, ready to display and sure to spark conversation.
Your creation will be a lasting memento of the joy and camaraderie of the day.
I provide the space, materials, and clean-up. You just bring yourself and sense of adventure. (And remember to dress for mess!)
Tailored to Your Schedule
With flexible booking times, I cater to your availability for ultimate convenience.
Enjoy the satisfaction of starting with raw materials and finishing with a polished work of art, personally varnished and finished by me.
Celebrate with a glass of Prosecco upon arrival and other refreshments to keep the spirits high.
How much are your paint parties?
My paint parties are priced at £35 per person, which covers everything you need for an unforgettable experience. This includes your art materials, a welcome glass of bubbly to toast the creativity, delightful nibbles to keep your energy up, and all the guidance you'll need to create a masterpiece. There are no hidden fees, just pure artistic fun!
What should I wear to the paint party?
Dress for mess! We dive into creativity, which can get a bit splattery. Wear something comfortable that you won't mind getting paint on.
How long does a paint party last?
Each paint party session is a 2-hour journey into the world of acrylic pouring. This gives you ample time to learn, create, and let loose with colour.
Where are the paint parties held?
The paint parties are hosted at my studio in Morebattle:
Is acrylic paint safe to use?
Absolutely! I use high-quality, non-toxic acrylic paints. They're safe for all ages and are in compliance with health standards.
What if I've never painted before?
No worries at all! Acrylic pouring is perfect for beginners. It requires no prior painting skills — just your presence and willingness to have fun.
Can children participate in the paint parties?
Our paint parties are designed for adults, as they offer a sophisticated blend of artistry and social interaction perfect for evening outs, corporate events, or adult birthdays. Participants must be 18 years or older to join in the fun. This allows us to create an environment tailored to adult relaxation and creativity.
Will our paintings be ready to take home the same day?
Your masterpieces will need some time to dry. It takes about 48 hours for the paint to set. After drying, I'll add the finishing touches, including varnish and a ribbon. So allow around 1 week for your artworks to be ready.
What if I get paint on my clothes?
Acrylic paint can stain clothes, so it's best to wear something you're not attached to just in case.
Are these private parties?
Absolutely! Every paint party I host is a private affair for 5 or 6 people. Gather your friends, family, or colleagues, and you'll have exclusive access to my studio for your group. It's the perfect way to celebrate a special occasion or just have a unique outing with your close ones. No strangers, just personal memories made with people you choose.
What's included in the price?
Your booking includes all art supplies, a welcome glass of Prosecco (or a non-alcoholic beverage), and some nibbles. Plus, you'll have a wooden heart AND a 10x10 inch canvas that you've created (ready to collect or be delivered for a nominal fee a week after your party).
What if anyone decides they'd like to paint an extra heart or canvas?
Absolutely! If inspiration strikes and you'd like to create more than one piece of art, I welcome you to paint additional hearts or canvases. Just let me know during the party, and I'll provide you with everything you need for your extra artwork at a small additional fee. It's all about maximising your creative experience!
When do I have to pay for the party?
Payment is due in full when you place your booking.
What is your cancellation and rescheduling policy?
We understand that life can be unpredictable, and plans may need to change. That's why I've crafted a flexible cancellation and rescheduling policy:
Full Refund: If you need to cancel or reschedule, you can do so up to 1 week before your party date and receive a full refund — no questions asked. I want to make sure you can plan your special event with peace of mind.
50% Refund for Last-Minute Cancellations: Cancellations made within 7 days of your party date will receive a 50% refund. This policy helps me manage my resources while still providing you with flexibility for those unexpected life twists.
Low-Cost Rescheduling: Need to change your date last minute? I can accommodate that for a small £20 rebooking fee if it's within 7 days of the event. This fee simply covers the cost of adjusting my schedule and ensures that we can continue to offer personalised paint parties to my guests.
I strive to be as accommodating as possible while maintaining a fair approach for all my clients and our business. Thank you for understanding, and I can't wait to host your paint party!
Ready to Paint the Town?
Here's How to Book Your Party:
Get in touch: Start by sending me an email or filling out our easy booking form below. Tell me a bit about your group and your preferred dates.
Set the Date: I'll get back to you promptly to provisionally confirm your party's date and time. I'm all about making it work for your schedule.
Secure Your Spot: Once we've agreed on the details, I'll send you an invoice with a secure payment link.
Finalise Your Booking: Your preferred date is confirmed and saved once I receive your payment in full, made simply via credit/debit card, PayPal, or BACS bank transfer.
I keep it as straightforward as possible so you can focus on the fun part – the party! Don't worry; I'll be with you every step of the way to ensure your booking is smooth and hassle-free.
Your canvas awaits – let's get the party started!
Get in touch or send a booking enquiry
Drop me an email at [email protected] or send me a message using the enquiry form below: